See David Hendricks' commentary saying pro-tollers won the debate and that our side has no arguments. Apparently he didn't show-up to the same debate, or perhaps this pro-highway lobby columnist prefers to see it that way: see "article" here. Did Joe Krier help you write this, sir? Wanna chime in? Write more Letters to the Editor to the Express-News here. Be sure your name, address, and phone are listed and be as brief as possible (under 250 words, under 100 is best).
The only two points Thornton and Krier said the entire debate were the usual:
1) We have no money and tolls or a 50 cent gas tax are the ONLY solutions
2) User of the road pays for the road
The TRUTH!
1) Tolls haven't hastened the 281 improvements, they've delayed them by 2-3 years. They've had the gas tax funds to install the overpasses and add lanes on 281 since 2004. (See original plan and article clearly stating even tollway already funded with gas taxes) Wurzbach Pkwy's completion has been planned for 30 years, with funding programmed for 15 years. Completion was promised over 10 years ago. See story here.
2) The improvements to 281 are already paid for with gas taxes, so the users aren't paying for the improvements. TxDOT has admitted they're using the toll revenues on 281 to fund more toll lanes on 1604. (See story here.) How is that user pays? Also, Commissioner Lyle Larson has stated TxDOT is not being honest about how these projects are being funded. All of them are using gas taxes because "they can't make it work otherwise."
"TxDOT is playing games with how these projects are going to be paid for. They're saying it's going to be paid by the tolls. That's not an accurate assessment." (Larson)
"You're saying even if they're toll roads there are significant tax dollars involved?" asks Coyle. (Reporter)
"Yes, there's going to be a lot," replies Larson. "They can't make it work otherwise."
Chamber crowd hears tolls' pros and cons
Web Posted: 03/30/2006 12:00 AM CST
Amy Dorsett
Express-News Staff Writer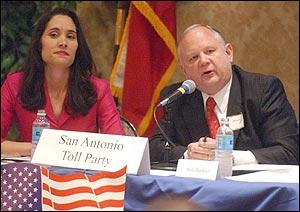 Photo by Robert McLeroy/Express-News
ARGUING AGAINST TOLL ROLLS: Terri Hall (left), founder and director of San Antonio Toll Party; and Bill Barker, a San Antonio transportation consultant.
Some 200 people shelled out $40 for a catered lunch of sandwiches and pasta salad at a downtown hotel ballroom Wednesday to hear a debate on the merits of toll roads.
Although nothing new about current toll proposals emerged in the debate, sponsored by the South San Antonio Chamber of Commerce, the discussion apparently accomplished its main goal.
"It informs people," said Helotes resident Diane Skillrud. "It gets people to think about it."
Skillrud said she hasn't made up her mind about tolls, but believes the U.S. 281 toll project would have an impact on the entire region.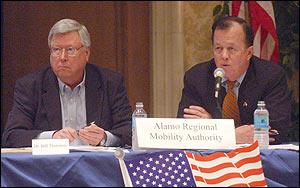 Photo by Robert McLeroy/Express-News
ARGUING FOR TOLL ROADS: Bill Thornton (left), chairman of the Alamo Regional Mobility Authority; and Joe Krier, president of the Greater San Antonio Chamber of Commerce.
Arguing for tolls were former Mayor Bill Thornton, chairman of the Alamo Regional Mobility Authority; and Joe Krier, president and CEO of the Greater San Antonio Chamber of Commerce.
They said that assessing tolls on drivers who actually use the roads is more fair than imposing more taxes on everyone, and that traffic congestion relief would come quicker than relying on more traditional ways of highway funding.
"San Antonio has congestion problems and it's worsening every day," Thornton said. "Tolls are paid only by those who choose to drive on toll roads."
Arguing against tolls were Terri Hall, founder and director of San Antonio Toll Party, and Bill Barker, a local transportation consultant.
They argued that San Antonio already has a dedicated sales tax supporting road projects, and that toll road rates are being grossly underestimated by toll proponents.
"Building more highways doesn't always result in less congestion and shorter commute times," Barker said.
The Texas Department of Transportation has proposed more than seven miles of toll lanes along U.S. 281, from Loop 1604 to Comal County. Work on the first three miles was supposed to start in January but was halted by a lawsuit filed by Aquifer Guardians in Urban Areas and People for Efficient Transportation.
The project will be delayed for at least a year while additional environmental studies are conducted.
Hall said the decision for toll road should be made at the polls.
"The decisions are being made for us by unelected bureaucrats," she said. "This should be in the hand of voters."
But Krier said the public can easily have its say on the issue.
"The nice thing about tolls is you get to vote for them everyday, anytime you want to use them," he said. "And we have elected officials who are held accountable."
The South San Antonio Chamber of Commerce, which hosted "Toll Roads: The Great Debate" at the Marriott Plaza hotel, has not decided whether or not to endorse toll roads.
"We've had questions from our membership and we wanted to have an informative luncheon to let folks know what is happening," said spokeswoman Suzann Haces. "It's good to know what's going on."