Link to story here.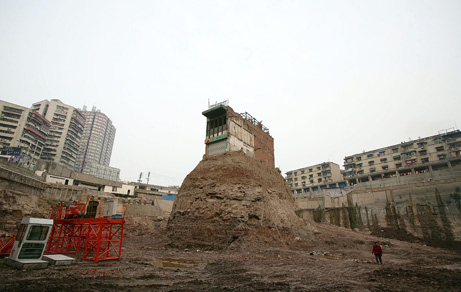 Chongqing, China, March 21, 2007—No man is an island. But developers in China have made one couple face an unusual type of island living after the homeowners refused to sell.
Wu Ping and her husband were the only family of 281 to reject a 2004 offer of a new house or financial compensation for their property. So the developer initiated construction around the building, leaving an island of land amid the excavation, as seen in this photo taken on Wednesday. A deadline to move out set by a local district court ran out on Thursday, and authorities are not sure what steps they will take next.
The conflict coincides with new laws adopted this week in China that grant legal protections for private land ownership for the first time since the Communist Party nationalized land in 1949.
"I'm not stubborn or unruly, I'm just trying to protect my personal rights as a citizen. I will continue to the end," Wu reportedly told the state-run newspaper Legal Daily.