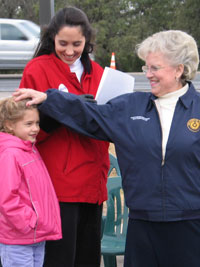 Link to article here. Read article below.
Strayhorn displays more courageoues leadership today in her call for a statewide initiative/referendum process to undo horrific legislation like Perry's double tax tolls and the Trans Texas Corridor! Thank Strayhorn here and consider a donation. Perry has double the warchest. A vote for Perry is a vote for tolls. It's our job to fight for those who will represent US and not special interests like the highway lobby!

Strayhorn calls for popular vote on big issues
02/01/2006
By JIM VERTUNO / Associated Press
Texas voters should have more direct power to write state laws and set policy instead of leaving important issues in the hands of elected officials, independent candidate for governor Carole Keeton Strayhorn said Wednesday.
Strayhorn, the state comptroller, said she supports statewide initiative and referendum, a process that would allow voters to petition to have issues placed on the ballot and approved or rejected by popular vote.
"Texans, practical people — not professional politicians — have the right to shape their own future and determine their own destiny at the ballot box," she said.
Texas allows voters to amend the state constitution, but amendments must first be approved by the Legislature. It would take a constitutional amendment — approved by the Legislature — to put Strayhorn's idea into effect.
Strayhorn said she has long supported such a change, although previous efforts by others to push similar plans have failed. Strayhorn's plan would allow voters to move with or without the Legislature's approval. It would allow voters to have a direct say not only on constitutional matters, but also in state law.
At a news conference at her campaign headquarters, she said that could include public education, toughening penalties for sex offenders and toll roads, specifically Gov. Rick Perry's transportation plan, the Trans Texas Corridor, an ambitious $184 billion vision of thousands of miles of tollways, railways and utility lines crisscrossing the state, which she has criticized.
Perry campaign spokesman Robert Black said voters will reject Strayhorn and her ideas.
"This November we are having a referendum, and voters will have the final say on Carole Strayhorn's continuing campaign of no plans, no solutions and no leadership," Black said.
Strayhorn, a Republican, decided to campaign as an independent rather than face Perry's re-election campaign in the March primary.
According to Strayhorn's campaign, 24 states have some form of the initiative and referendum process. Many local governments also use it.
"I say politicians should not fear, but should embrace, the will of the people," she said. "Let the people vote."