4 Lane Toll Road in Median of 8 Lane Freeway
Notice the congestion on the non-toll lanes. Does this look like congestion relief to you? TxDOT is planning to make our free lanes frontage roads with permanent stop lights and 30-45 MPH speed limits to boot! Tolling our roads isn't about congestion relief, it's about a new revenue stream for the state. It begs the question: Did the lottery end our public education woes? It's pretty clear tolls won't fix our congestion problems either.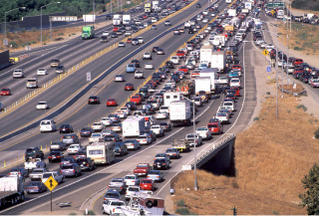 Typical Afternoon Peak on the Public turned Private then back to Public SR 91 Toll Road in Orange County, CA
$9.50 to drive 10 miles!

---
To see sample toll rates in CA…
www.91expresslanes.com.